After conducting the tests, AAA recommended drivers "never" rely on the technology to apply the brakes.
Automatic emergency braking (AEB) systems are designed to apply the brakes when a driver fails to engage them as the vehicle approaches an object.
There are two types of automatic braking systems: those designed to prevent crashes and those designed to lessen crash severity.
New test results from AAA show that automatic emergency braking systems, which will soon be standard equipment on 99% of vehicles — vary widely in design and performance.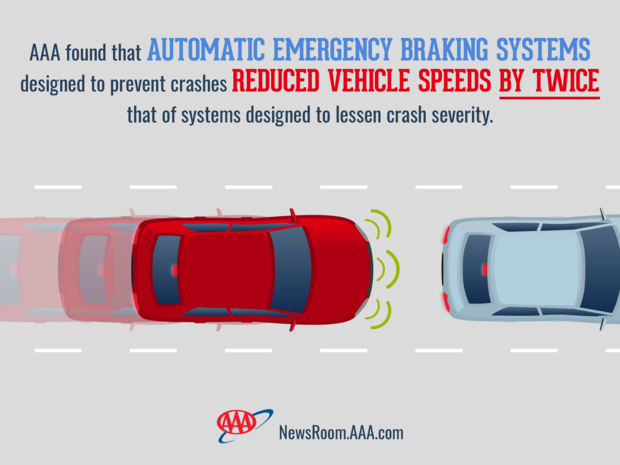 Twenty automakers have pledged to make AEB standard on their cars by 2020.
While any reduction in speed offers a significant safety benefit to drivers, AAA warned that automatic braking systems are not all designed to prevent collisions and urged consumers to fully understand system limitations before getting behind the wheel.
About 9% of U.S. vehicles have automatic braking systems. A recently completed AAA survey found nearly 40% of U.S. drivers want the technology in their next car.
John Nielsen, AAA's managing director of Automotive Engineering and Repair, said the organization found that two-thirds of Americans familiar with automated braking technology believe it's for crash avoidance without driver intervention.
"The reality is that today's systems vary greatly in performance, and many are not designed to stop a moving car," Nielsen said.
Working with the Automobile Club of Southern California's Automotive Research Center, AAA performed 70 tests on five 2016 model-year vehicles equipped with automatic emergency braking systems for performance within system limitations and in "real-world driving scenarios."
Tests were performed at the Auto Club Speedway in Fontana, Calif.; systems were  grouped into two categories — those designed to prevent crashes and those designed to slow a vehicle before a crash.
The results were compared to the limitations stated in the vehicles' owners manuals.
In terms of overall speed reduction, the systems designed to prevent crashes reduced vehicle speeds by twice that of systems  designed to only lessen crash severity (79% speed reduction vs. 40% speed reduction).
Driving at speeds under 30 mph, the systems designed to prevent crashes successfully avoided collisions  60% of the time. Conversely, the systems designed to lessen crash severity were able to completely avoid crashes in 33% of test scenarios.
When AAA pushed the braking systems beyond the stated system limitations, as well as beyond proposed federal requirements, the variation among systems became more pronounced.
When traveling at 45 mph and approaching a static vehicle, the systems designed to prevent crashes reduced speeds by 74% overall and avoided crashes in 40% of scenarios. In contrast, systems designed to lessen crash severity were only able to reduce vehicle speed by 9% overall.
"Automatic emergency braking systems have the potential to drastically reduce the risk of injury from a crash," Megan McKernan, manager of the Automobile Club of Southern California's Automotive Research Center, said in a statement. "When traveling at 30 mph, a speed reduction of just 10 mph can reduce the energy of crash impact by more than 50%."